Lance has been in Australia for the past week promoting his Livestrong Foundation and Saturday he did the 50km Cancer Council ­Classic, held on a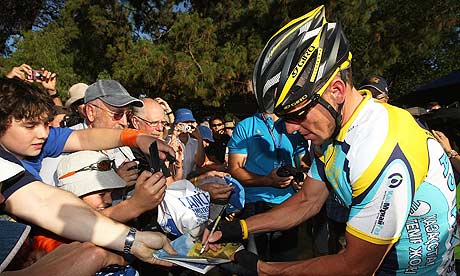 compact circuit in the center of Adelaide and run off at a rapid 47kmph. It has been 1,274 days having elapsed since his last professional race (for you statistic sport fans).
Armstrong, who, before crossing the line in 64th place – 23 seconds behind the winner, admitted to having "a lot of anxiety" about his first race back but "zero doubt in my mind that I have done the right thing" in returning to the sport.
Watching from the pits, Johan ­Bruyneel, the director of Armstrong's Astana team, said: "It's a special day, an important moment. After a lot of talk about his comeback, now it is a fact. He has a number on his back; he's a racer again."
Click here
for the complete article